Easy, Transparent and High Performance Data Encryption Solution
As data becomes more valuable in this digital age, keeping it safe from theft is a priority for organizations today. Besides the ever-present threat of cyber attacks and security breaches, organizations are anxious about how their employees deal with confidential and sensitive data —even though the data was stored 'safely' within the corporate network.
Why take a risk with your data security? The costs of such breaches often include financial loss, productivity loss, and credibility loss that can be permanently damaging.
Our data encryption solution facilitates data privacy and compliance and provides "need-to-know" access for internal and external users, and ensures data protection on endpoints, servers and databases whether in virtualised environments on-premise on in the cloud.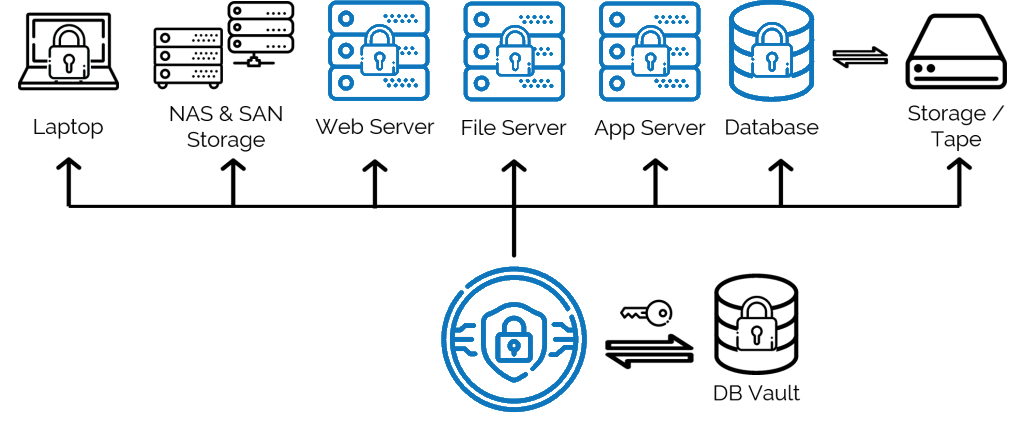 Fig. Centralized platform to protect any structured and unstructured data
Solution highlights:
Secure any kind of sensitive data with Separation of Duties – stored in systems from rogue privileged user, compromised privilege user account and cyber attack
Reduce operational costs – reducing silos of data security systems with a centralized platform that will reduce the time, effort and expertise required to manage multiple tools.
Reduce recurring compliance costs – reduce footprint of scope and sensitive data required by PDPA, PCI DSS, GDPR, ISO 27001, HIPAA etc
Privacy in depth options – adopts industry standard AES-256 encryption, masking, tokenization and anonymization to offer real protection of sensitive data and files
Protect investments with future-proof technology – offers transparent data protection on standard Windows/Linux platforms with multi-vendor database and HSM support that prevents technology lock-in by a particular product
Read More: Randtronics Data Privacy Manager
Other Solutions