The BigID Data Intelligence Platform
BigID is a Modern Data Intelligence Platform for Data Privacy, Protection and Perspective – Built on a Foundation of Discovery-in-depth.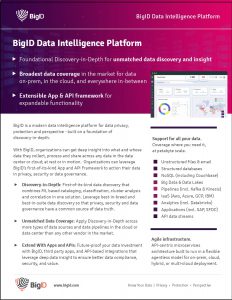 BigID is a modern data intelligence platform built to scale, based on Docker and Kubernetes architecture: combining discovery-in-depth (with more ways to discover data using classification, cataloging, cluster analysis, and correlation), unmatched data coverage for all types of personal and sensitive data (in data centers and the cloud; at rest or in motion), and an extensible app framework to take action on privacy, protection, and perspective.
Support For All Your Data
With BigID, organizations can get deep insight into what and whose data they collect, process and share across any data in the data center or cloud; at rest or in motion. Organizations can leverage BigID's first-of-its-kind App and API Framework to action their data in privacy, security or data governance.
What You'll Learn:
Foundational Discovery-in-Depth for unmatched data discovery and insight
Broadest data coverage in the market for data on-prem, in the cloud, and everywhere in-between
Extensible App & API framework for expandable functionality